Sam Kendricks graduated from Oxford High School in 2011. While at Oxford, Kendricks won 2 state titles in the Pole Vault, which is his specialty event. He also placed 2nd at New Balance Outdoor Nationals in 2010. In 2011, he went undefeated his senior year in outdoor competition, which won him the 2011 Mississippi Gatorade Player of the Year in Track and Field. That magical year in 2011 also featured Kendricks vaulting 17-0, setting the Mississippi High School record that still stands today.
Kendricks at the MSU Bulldog Invitational his senior year
After graduating from Oxford, Kendricks stayed in town and vaulted for the University of Mississippi, or better known as Ole Miss. At Ole Miss, Kendricks immediately sprouted into an elite pole vaulter, breaking the university's indoor and outdoor school records as a freshman. He also placed 2nd at the SEC Outdoor Meet and made it to the 2012 NCAA Outdoor National Meet, where he placed 10th in the Pole Vault. However, the next 2 years at NCAA Outdoors Nationals, Kendricks would step up his game in a big way and went on to win back-to-back national titles in the Pole Vault in 2013 and 2014. In 2014, Kendricks announced that he was turning pro.
In 2015, his first year as a pro, Kendricks started with a bang and won the 2015 US Championships. This qualified him to compete in the 2015 IAAF World Championships, where he finished 9th. The next year, at the 2016 US Olympic Trials, Kendricks defended his national title and won for the 2nd year in a row, earning him a spot to compete at the 2016 Rio Olympic Games while representing the USA. At the Games, Kendricks showed up and showed out, placing 3rd in the Men's Pole Vault, earning him an Olympic Bronze Medal.
Kendricks also received attention for stopping mid-run though in the Pole Vault competition to Stand and salute while the Star-Spangled Banner was played.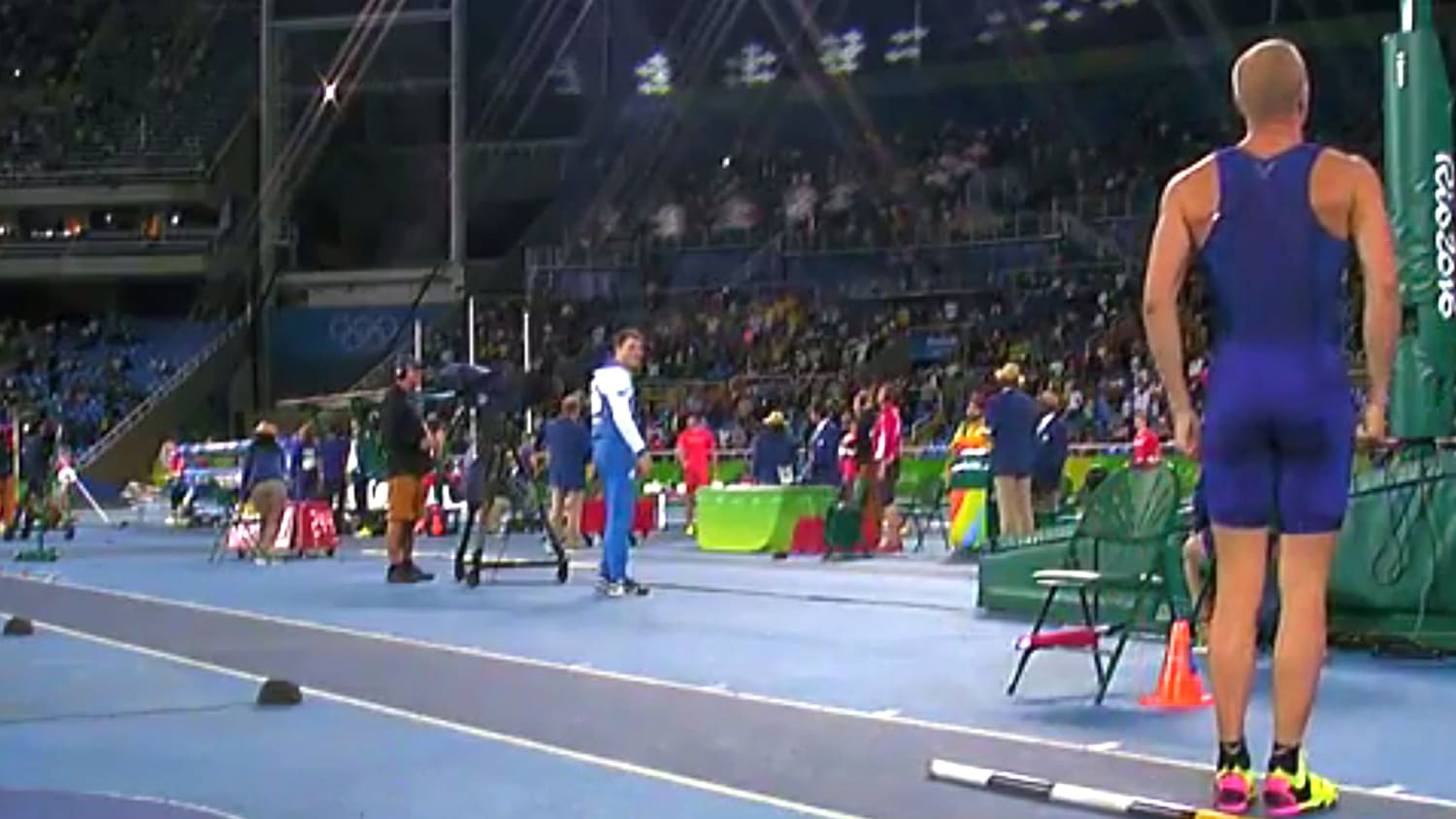 After only 2 years of being a pro, Kendricks won 2 national titles, as well as an Olympic Medal. Some might think that he couldn't possibly build upon that and improve. But, against all odds, Kendricks found a way.
That incredible 2016 Rio Olympics 3rd place finish would be the last time Kendricks lost at a World Championship, as he went back to the IAAF World Championships in 2017 and 2019 and won 2 world titles!
Kendricks after winning Gold at the 2019 World Championships in Doha
And still, after 2 straight world titles, 6 straight national titles, and an Olympic Medal, Kendricks still had more to build on his resume, as on July 27 of 2019, Kendricks vaulted 19'10.5", breaking the American record. That's right, the best vaulter in the history of America is from Oxford, Mississippi.
With all of that being said, Kendricks had a truckload full of confidence going into the 2020* US Olympic Trials, as he was almost a lock for the team. And although Kendricks did not have a smooth-sailing path, that is exactly what he did.
At first, it looked like Kendricks was going to breeze right by and take yet another national title. This was a historically deep year as 11 men cleared 18'8.25"... the last time that had happened was the 2007 World Championships. Still, Kendricks was doing what he does best, and was over the first 4 heights. However, he then missed at 19'0.25", his first miss of the entire meet. Although this was such a small blemish in his performance, that miss vaulted him to 4th place, outside of the top 3 finish needed to go to Tokyo. That is when tactics started coming into play, and Kendricks opted to pass over to the next height, 19'2.25", where he would get two attempts. It paid off big time, as he cleared it on the first try, and moved him into a tie for 2nd, as only 3 other men cleared that height. With that, the team for Tokyo was set... and Kendricks would be on that flight to Tokyo.
Kendricks hosting the Rancho Olympia Spring Break Invitational with Mississippi HS Pole Vaulters
Although Kendricks didn't win a national title, something that has never happened in his professional career, he was still deeply proud of not only his efforts but his competitors as well. He said that he is extremely proud and confident of the team's abilities headed into Tokyo, as he thinks each one of them could get onto the podium in Tokyo.
"Absolute pride is the word. I can't explain it but I'm gonna try," Kendricks said. "There were 12 men out there that brought the absolute best tools they had to offer and they respected the game, and they knew going in that they couldn't all win. There's this culture in my event that I wish we could share with the whole sport. You just can't make a generation of guys come together like this. We all say going in that it's gonna be beautiful like this. This team will go down in history as the hardest team ever to make." - Sam Kendricks in a statement to Ole Miss Track and Field
If Kendricks does indeed return to the podium, he will be the first American to repeat as a medalist since Bob Seagren at Munich 1972.
Now that Kendricks has booked his flight to Tokyo, he is packing his bags and heading out to Europe, where he will face off against much of the same competition that will be in Tokyo and will be able to hone in on the Olympic Games.
The opening rounds of the Men's Pole Vault are set to go off on July 31, where Kendricks and Americans Chris Nelson and KC Lightfoot will try and qualify for the final, which will be held on August 3.